Micro swirl mixer
Swirl flow mixing = Forcing turbulent flow mixing
Uniform mixing of fluid with low viscocity
Less likely of flow path blockage occurrence since swirl vane which narrows flow path is not needed.
Capable of high temperature and high pressure (500℃, 30MPa)*1
*1 Pressure tolerance varies by the inner diameter inch size of 1/16 tube
(The values indicated above are applied when ID 0.8 is used)
(Maximum pressure is ID0.1mm, 150MPa at normal temperature)
- Micro swirl mixer is produced with using the patented technology by
  National Institute of Advanced Industrial Science and Technology Compact Chemical Process R&D Center.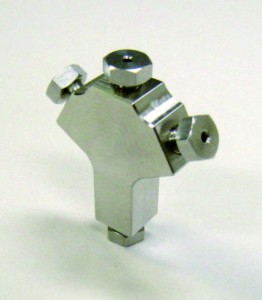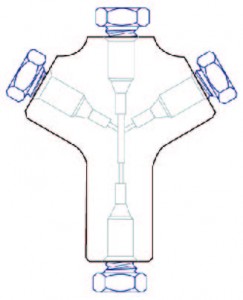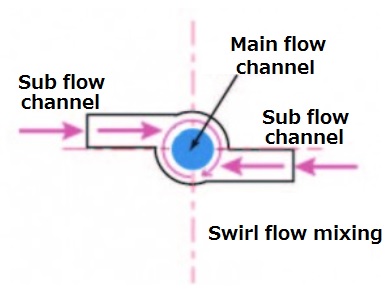 Highly christalline nano particles
Sintering temperature reduction prevention
Prevention of line blockage
⇒Measure refinement, application to nano electric device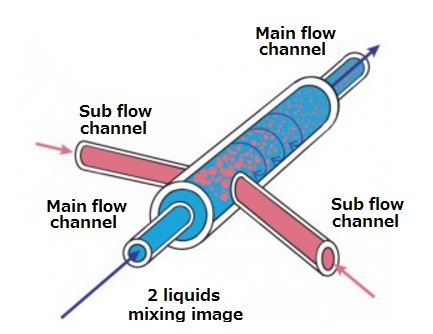 (The table expands by click)
Tips for using swirl mixer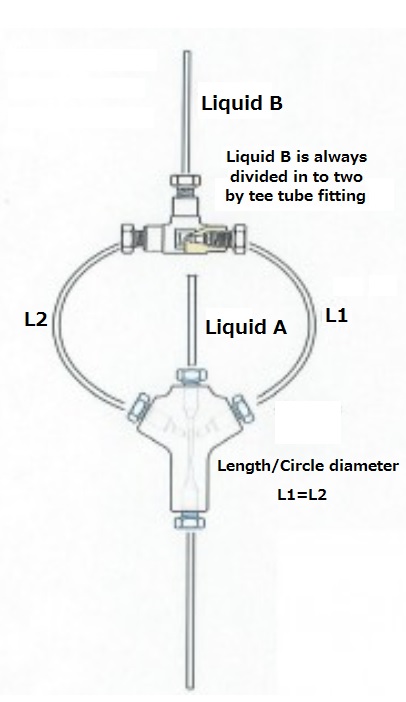 Swirl mixer mixes B fluid (flows through sub flow channel) to A fluid (flows through main flow channel). To achieve an efficient mixing, divide sub flow channel B fluid into two. At the mixer center part, sub flow channels are connected eccentricly against main flow channel so swirl flow is generated at the mixer center. Mixing performance is improved at swirl flow generated point since inertial force is added by not only axis direction but also round direction. With T shaped mixer, fluid turns with right angle so vortel is generated at the turn. This vortex area is a cause of retention. Swirl mixer prevents fluid retention since mixed fluid flows with swirling for all the times.
〔Mixing tips for higher mixing efficiency〕
*Apply the same flow rate for divided 2 fluids
Please contact us if you would like to change the flow rate.